Save Your Shoes, Protect Your Feet
Views: 44 Author: Site Editor Publish Time: 2021-12-06 Origin: Site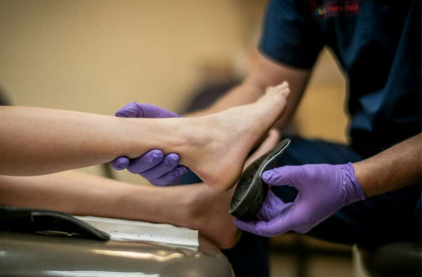 The shoes that are recognized by the public can be said to be good shoes. The workmanship and performance are indeed excellent, but most people will find some flaws after wearing it a few times. They always feel that something is wrong and make their feet feel some discomfort. feel. These flaws do not actually come from the shoes themselves. Each pair of shoes will be equipped with a pair of custom shoe insoles. If you feel uncomfortable, then there must be a problem with the custom shoe insoles.
It can be found that the original insoles of many shoes are very thin, or the material is stiff. Many people ignore the insole because of the appearance of the shoes, such as the thick soles. How much influence can a pair of shoes have?
Not paying attention to insoles is a common problem, and almost most people care more about shoes. When choosing shoes to buy shoes, the choice must be high-end and popular products, and the poor of civilians are also cost-effective shoes, so there is little doubt about its performance. Coupled with word of mouth, this problem will be ignored under subtle influence, but first we must distinguish a concept, shoes and insoles are two different things, the quality of shoes does not mean the quality of the original insoles.
In the market, there are many industries that focus on custom shoe insoles, but there are not many insole suppliers who make insoles carefully. The insole looks insignificant, and even gives people a feeling of dispensable, but in fact it is not the case. In a sense, the importance of the insole is no less than the shoe itself. As a bearing between the shoe and the foot, it is not only It can prolong the life of shoes, reduce wear and tear, and may also solve the problem of troublesome cleaning; for the feet, it is even more important. The feet are covered with the corresponding organs of each organ. A good pair of insoles not only protect the feet, but also It can protect other parts of the body from unnecessary harm.